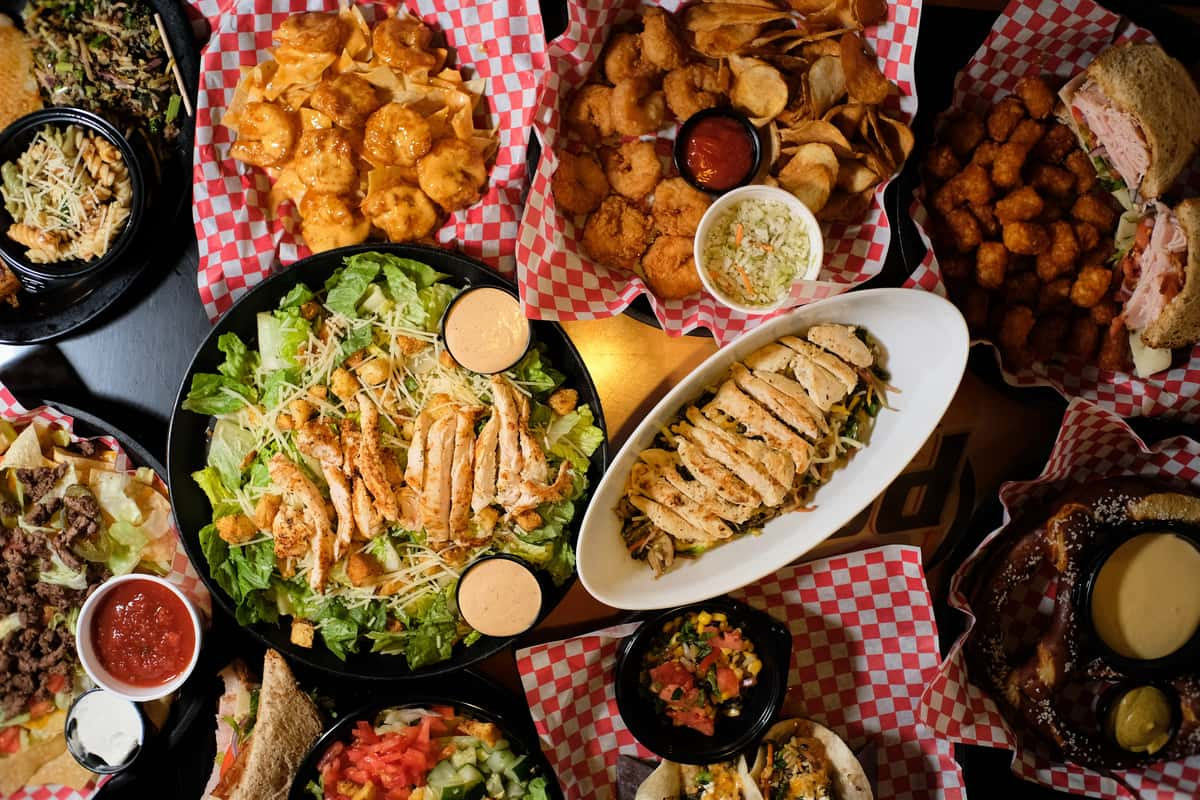 New Menu
Become a VIP
Receive updates on special events, new menu items, menu reviews, and more!
New Menu
SALADS
DRESSING: HOMEMADE RANCH, HOMEMADE BLUE CHEESE, CAESAR, HOMEMADE CHIPOTLE RANCH, BALSAMIC VINAIGRETTE, HONEY MUSTARD, THOUSAND ISLAND, MEDITERRANEAN FETA, LIGHT ITALIAN, LIGHT RANCH

OUR GREEK AND SOUTHWEST SALADS ARE GLUTEN FREE, FOR OTHER GLUTEN FREE OPTIONS, WE'LL HOLD THE CROUTONS ON ANY OF THE SALADS THAT HAVE THEM.
OUR FAMOUS POTATOES
OUR SIGNATURE BEER BATTERED FRY WAS CREATED IN 2004 BY BOB. TRULY ADDICTIVE!

ALL OF OUR FRESH BAKED POTATOES ARE GLUTEN FREE AS ARE THE INGREDIENTS IN THEM.
OUR FAMOUS WINGS
ADD CELERY OR CARROTS (8-10) STICKS .75
BASKET OF CELERY AND/OR CARROTS (25–30 STICKS) PLUS 2 DIPPING SAUCES 2.75
EXTRA RANCH OR BLUE CHEESE +.50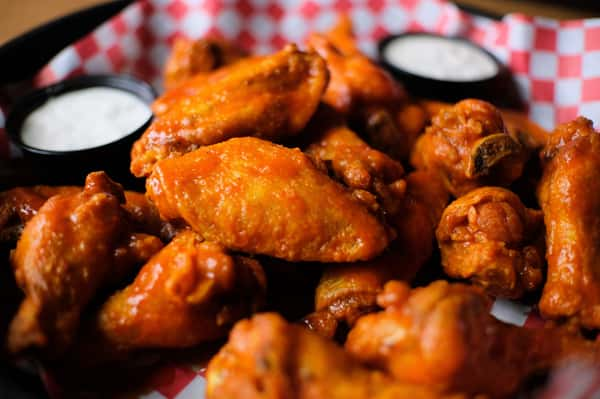 PBC'S FAMOUS WINGS (Since 1993)
OUR SAUCES ARE ALL HOMEMADE. IF YOU LIKE NO HEAT, A LITTLE HEAT, OR A LOT OF HEAT, WE HAVE THE SAUCE FOR YOU.
CHOOSE FROM OUR LEAST HEAT TO THE MOST HEAT: HONEY BBQ, TERIYAKI, LEMON-PEPPER, HONEY MILD, MILD, MEDIUM, ISLANDER, HONEY HOT, HOTYAKI, HOT, SCORCHER

OUR WINGS ARE FRESH, NEVER FROZEN AND FRIED OUR REGULAR WAY, EXTRA CRISPY, DOUBLE FRIED

ALL FLATS - .10/WING
ALL DRUMS - .06/WING
LEMON-PEPPER SPRINKLES - .03/WING5 Wings $6.5010 Wings $12.5015 Wings $1820 Wings $23.5025 Wings $2950 Wings $57
CHICKEN & WING BASKETS
All baskets come with a choice of Fries, Kettle Chips, or Baked Potato and one of our sides
POWER BOWLS
NEW!
PBC POWER BOWL
$7OUR PBC VEGGIES AND ANCIENT GRAINS (BROCCOLI, KALE, KOHLRABI, BRUSSELS SPROUTS, NAPA CABBAGE, CARROTS, BROWN RICE, RED RICE, RED QUINOA, BLACK BARLEY) COOKED IN OLIVE OIL AND SPECIALLY SEASONED AND MIXED WITH SAUTÉED ONION, MUSHROOMS, AND BELL PEPPERS AND OUR VEGAN FETA CHEESE.

GF
V
BURGERS & CHICKEN
ALL BURGERS AND CHICKEN SANDWICHES COME WITH OUR SHREDDED LETTUCE. A GARDEN WITH TOMATO, RED ONION, AND PICKLE SLICES IS AVAILABLE UPON REQUEST. BURGERS ARE COOKED TO YOUR SPECIFICATIONS. EACH SANDWICH COMES WITH A SIDE OF YOUR CHOICE AND A PICKLE SPEAR. GRILLED CHICKEN TENDERS MAY BE SUBSTITUTED FOR ANY BURGER EXCEPT FOR BOB'S LIL BURGER.
SEAFOOD BASKETS & ENTREES
CHOICE OF GRILLED OR FRIED EXCEPT WHERE SPECIFIED. GRILLED SEASONINGS ARE SALT/PEPPER, CITRUS, JERK, LEMON-PEPPER, CHILI LIME, OR BLACKENED. ALL BASKETS & PLATES COME WITH A CHOICE OF FRIES, KETTLE CHIPS, OR BAKED POTATO AND ONE OF OUR SIDES
SANDWICHES | HOAGIES | WRAPS | TACOS
ALL SANDWICHES, HOAGIES, WRAPS AND TACOS COME WITH A PICKLE SPEAR AND ONE SIDE.
SIDES
SMALL TOSSED SALAD OR SMALL CAESAR - 3.75
PASTA SALAD
PBC BAKED BEANS
PBC VEGGIES
CHEESE GRITS
COLESLAW (vinegar based)
CHILI AND CHEESY POTATO SOUP
CUP – 3 I BOWL – 5
GM
Gluten-Free Modification

New!
Please tell us of any allergies prior to ordering. We will do our best to accommodate
your situation
*Consuming raw or undercooked meats, poultry, seafood, shellfish, or eggs may increase your risk of foodborne illness, especially if you have a medical condition.
An 18% gratuity will be added to parties of 6 or more (including children).